Welcome to the Hotel "Milli & Jon" in Bukovel
If you are on our website you probably have decided to rest in Bukovel and looking for a hotel to spend the holidays better. Milli Jon three star hotel is located in the picturesque Carpathian Mountains Bukovel. Bukovel ski resort is located in the village of Polanica. In this hotel you can forget about all your worries and immerse themselves in the rest. Milli Jon is one of the best Bukovel hotels. It is located 800 m to lift and 1 Bukovel km to the center. The same distance to the lake Young and Voda Club all 1.5 km. Milli Jon and outdoor summer, and winter, in every pore of the year there are interesting and relevant entertainment. You can not just live, but also swim in the pool or in the lake with spring water, rent skis in winter, summer bicycles, also you can enjoy the healthy and delicious food in our restaurant, pizzas of different recipes, also if you stay for the fresh air then you have a bbq area with gazebos. There's also a sauna with a swimming pool which is placed 6 man. On our site you can learn more about each of the entertainment industry. In our hotel, it will be interesting for both children and adults as well, as for the children, a playground and swing. The hotel includes 47 Rooms are divided into categories: standard, Junior, luxury, economy. That is, you can choose a convenient and budget for yourself Room. From the balconies of rooms you can enjoy views of the Carpathians. There is also a wi fi is available throughout the. The hotel has free parking. We employ friendly and qualified staff are ready to cooperate with you and talk to you in your language. We have prepared all, make your holiday like you and remember the best memories.
Villa "Milli & Jon" located in the popular mountain resort in Ukraine, Bukovel. On high 920 m, villa "Milli & Jon" is a major tourist attraction point during the summer, but mostly in the winter through outstanding winter sports. Scenery around the hotel is breathtaking, oasis, but at the same time close to the resort Bukovel. It is a few minutes from the main ski lifts, makes our hotel a very convenient way for you. The unique architecture and attention to detail combined with outstanding comfort rooms completes the full image of this place.
Villa "Milli & Jon", The main advantage of Villa "Milli & Jon" – proximity to the Bukovel and best slopes and lifts, allows you to visit all the slopes in the whole Bukovel. Next door is convenient transportation. For example, only 5 takes minutes drive to center Bukovel
Villa "Milli & Jon" offers 29 Room, to place them in a group of tourists, private travelers and business people, coming to Bukovel. 3 Junior Suite and 2 Suite, each of which is beautifully decorated, in modern style, where you can really feel the comfort of home. Ideal for long-staying guests or families, who need extra space. The villa offers comfortable, comfortable, equipped for rest and productive work, and please you with remarkable European and Ukrainian home cooking.
Please, note:
Restaurant
Our main principle - Useful, delicious and quality food for all! We have a variety of dishes - meat, fish, vegetable, sweet; the same variety, as well as your tastes! Menu selection of dishes, that characterize the rich culinary legacy of Ukrainian cuisine close to the European. Also, we can enjoy the finest cognacs, sit over a cup of coffee or tea, or chat over a glass of fine wine. For younger customers, we offer a wide selection of delicious desserts and a large selection of soft drinks and fruit. Read more…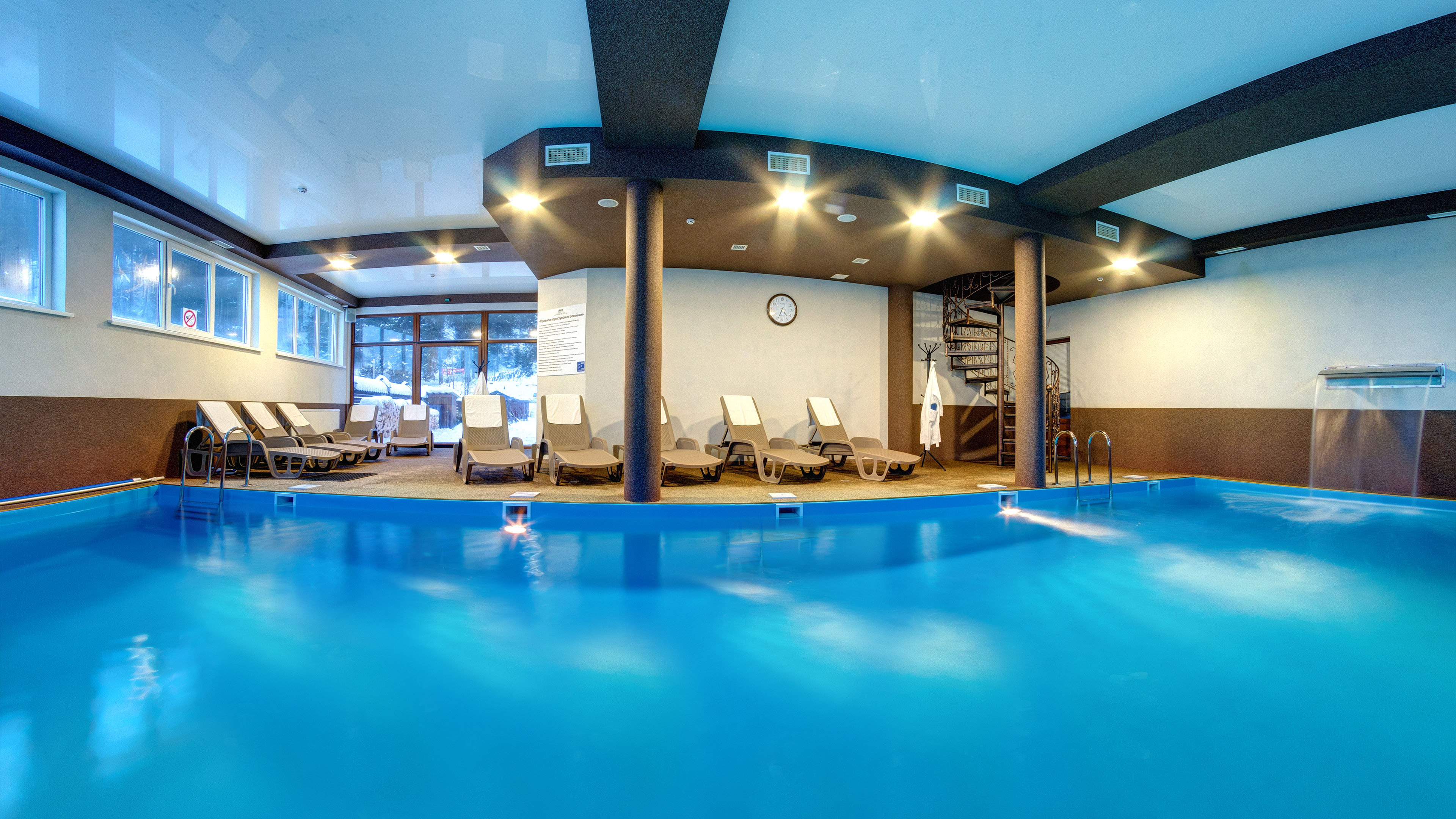 Pool
Swimming pool - is a nice component of a good holiday, and certainly it is the first step to good health. Swimming in the pool will benefit almost everyone, since water treatments have a positive effect on the organism, raise the tone, relieve stress, normalizes sleep and improve immunity.
The water temperature in the pool area 25-28 degrees, that makes it comfortable to swim for adults and children, regardless of weather, which is different in the Carpathians;)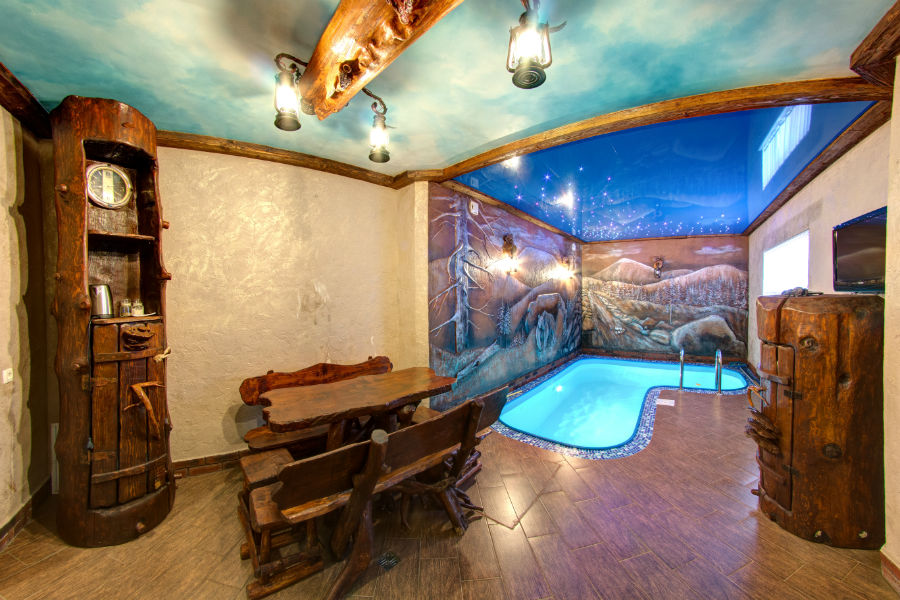 Sauna
For a long time, or a sauna bath is the best remedy for many diseases. Not surprising, that to date, people, who choose a healthy lifestyle, prefer sauna and steam. In our hotel, we offer you to discover the "world of relaxation and comfort"! Combine business with pleasure, relaxing in the Finnish sauna or Russian banya, You can enjoy the exquisite taste of herbal tea with honey or herbal infusion. At your disposal a Finnish sauna with aromatherapy oils, Russian sauna with birch or oak twigs, swimming pool with a modern system of water filtration, dayroom with TV. Read more…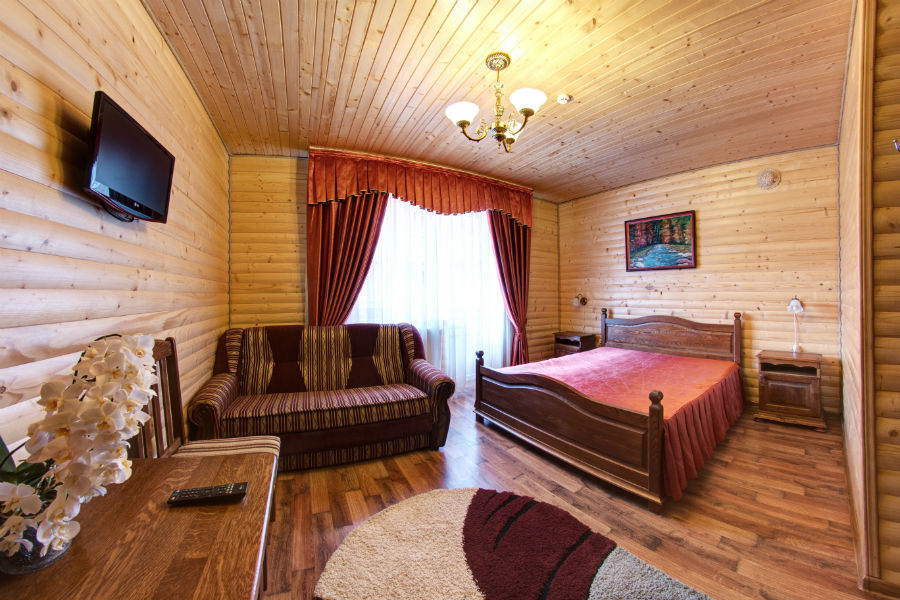 Junior Suite
The rooms "Junior" category you will find everything you need for a perfect holiday. The rooms are spacious studios but. Junior Suites – This Superior Room which has a double bed or two double beds ordinary, Double sofa bed, bathroom (sink, pan, shower, pol.sushitel,fan), TV, table. Read more…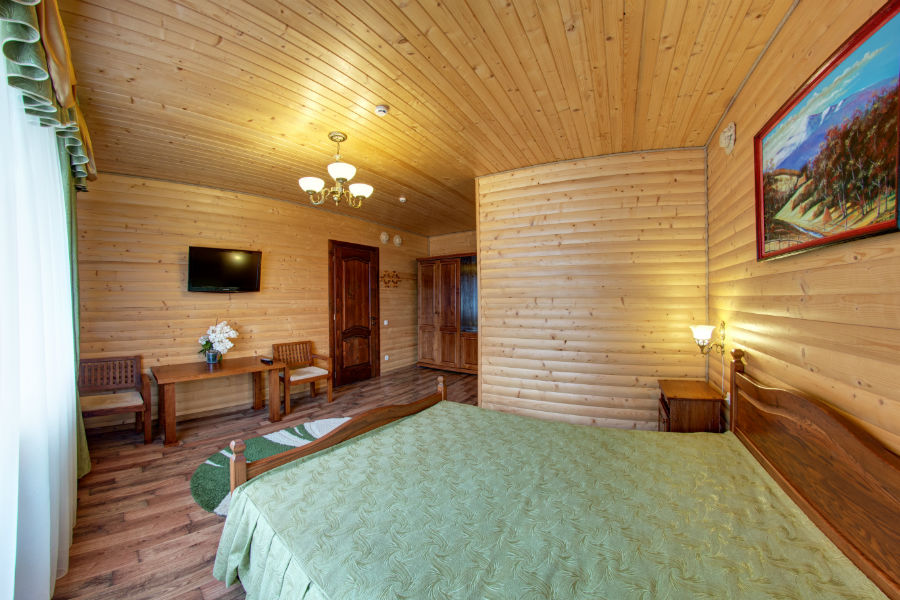 Deluxe Suite
The rooms of the category "Suite" features a bright, spacious room, decorated in traditional style. For children working skiing schools and instructors (one large, one high) which has a double bed, folding two-place divan, bathroom (sink, pan, shower (hydromassage), pol.sushitel,fan), TV, table, Two stulchikami.Podrobnee…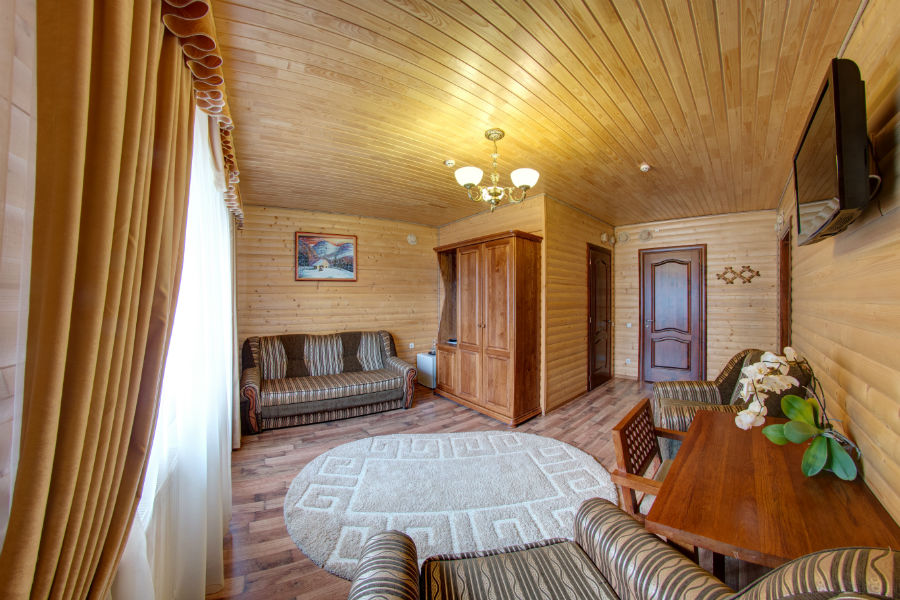 Suite Superior
Rooms are "suite superior" exquisitely fine display claimed in their titles style. We offer you an unrivaled holiday in suites. Each of the proposed apartments - individual interior design, luxury combined with cosiness and comfort, to forget about the bustle of the big city and enjoy the relaxation. Suite consists of two large rooms that have two double beds, couch and a chair, bathroom (sink, pan, shower (hydromassage), pol.sushitel,fan), two TVs, table, Two stulchikami.Podrobnee…