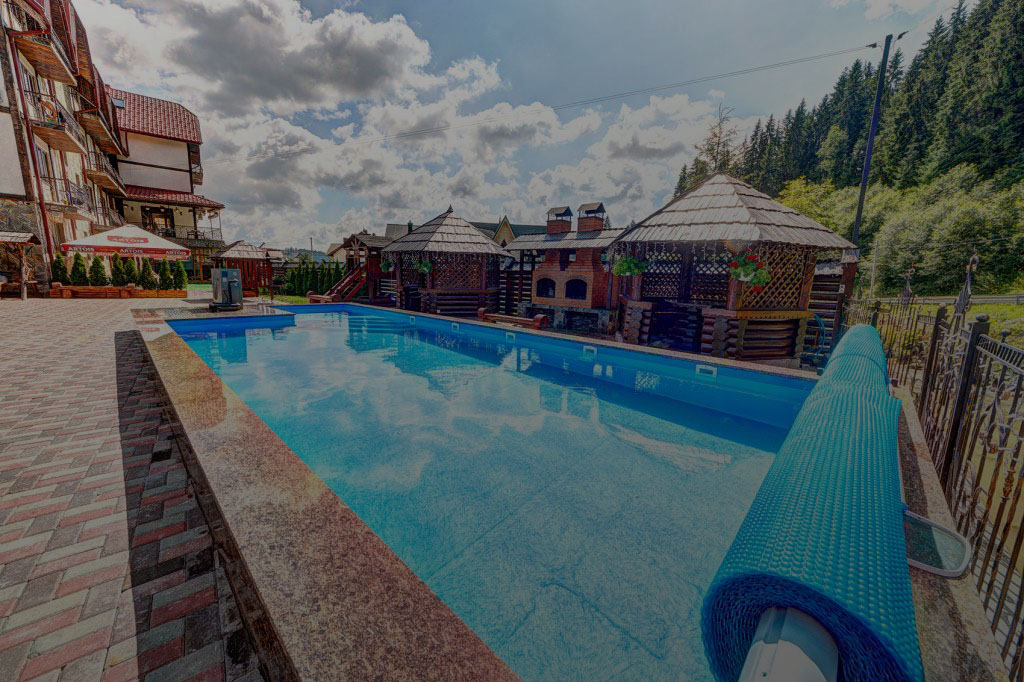 Feedback from our customers
I recommend to everyone, Carpathian wonderful family-run hotel, with an excellent variety of cuisine and good prices. Clean and comfortable rooms with natural wood, also have a bath, pool , barbecue in the street with pergolas, I recommend to everyone!
---
View all comments about us
Very great hotel. Recommend this place

Carol Taylor


01.12.2017

Great hotel with the excellent rooms. Really friendly personell. Due to our trip with the toddler we were allowed to check out not at 11 am, but at 13 pm... read more for free. In case you want to go somewhere by the taxy, you can easily ask someone from the reception to call it. Also would like to recommend the restaurant in the hotel. They have nice breakfasts, the other meal is also tasty and not so expensive, especially "dwell" and murshroom soup. But the best was the meat, that was marinaded by them by our request to make a barbeque. Highly recommend this hotel and for sure I will rent the room there next time with a big pleasure.

Ivan Kozlov


01.12.2019

So nice, very good place - hotel, staff, restaurant and very nice location.

Mihai Crocimar


01.12.2018
Rest in Carpathians will reveal a green fairy-tale mountains. Ancient spruce, clear mountain river, clear lakes, rushing waterfalls - все это собрала для вас природа в одном уголке под названием Карпаты Буковель - one of the most famous tourist resorts of Carpathians, Located near the village of Polanica. Good geographical location - Bukovel is surrounded by an amphitheater krasiveBukovelozdaet comfortable conditions for rest in Bukovel. The unique climatic conditions, extraordinary beauty of the Carpathian Mountains, scenic landscapes, as well as mineral water springs attract a large number of tourists for rest and treatment in Bukovel..
Rest in Bukovel - it's ideal weather conditions year round, various national holidays and interesting excursions.
Milli & Jon located in the heart of the Carpathians. At distances 800 meters from the resort Bukovel and ski lifts.
Milli & Jon designed for family holidays, rest with friends or with a loved one.
Our hotel is :
47 comfortable rooms
Restaurant and Pizzeria
Indoor pool(works all year round)
Open pool(in summer)
Sauna on the wood with a contrast pool
Ski equipment rental
Bicycles for rent
Milli & Jon - this place, where you can truly rest and recuperate to conquer new heights!
Hotel Bukovel
Hotel Bukovel "Milli & Jon" located in the most popular mountain resort in Ukraine - Bukovel, on high 920 m above sea level, just a few minutes from the main ski lifts. The main advantage of Hotel Bukovel "Milli & Jon" - proximity to the center of Bukovel and to the best slopes and lifts. There is a convenient transport interchange near the hotel, only 5 takes minutes drive to center Bukovel. Villa "Milli & Jon" offers cozy, comfortable, equipped for rest and productive work, as well as the restaurant will delight guests of European and Ukrainian home cuisine.
Winter in Bukovel things to do? This is the most important question, which we ask ourselves before our first trip to the resort. Let's try to find the answer together. To start, what Bukovel (Bukovel)? Bukovel is the largest ski resort in Ukraine. It located near the village of Polanica Yaremche City Council, at the foot of Mount Bukovel, on high 920 meters above sea level. The highest point of the resort - Dolgaya Mountain - 1372 m. Bukovel Ski Resort invites you to skiing or snowboarding. At your service 16 modern lifts and about 60 km of carefully prepared tracks, 100% of which are equipped with the most modern snow systems. Ok this is clear. And what to do, who didn't ski? In this regard, there are many options in Bukovel. For example: Snoupark, kart, rink, snowmobiles, cart, car rental and numerous SPA complexes. More details on the official website of the resort. And where to stop? For you, this is almost a settled issue., why? You are already on the site of one of the best family hotels in the resort.! What do we offer you? comfortable rooms, good prices, delicious food and parking with a convenient check-in, pool which is open all year round, bath with wood, barbecue area, equipment rental and most importantly, the distance to the Bukovel resort is only 800 meters! So what's left click to book and come to a winter wonderland called Bukovel)