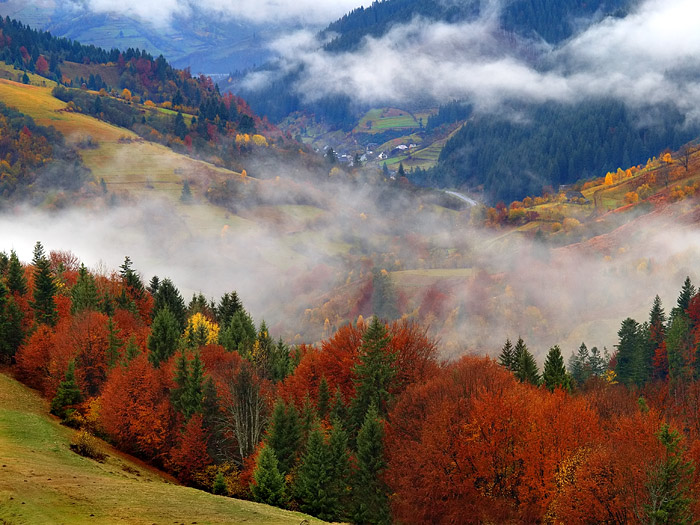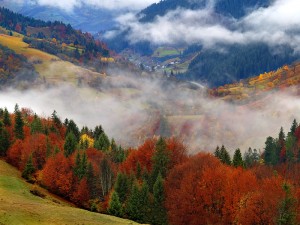 Rest in Carpathians will reveal a green fairy-tale mountains. Ancient spruce, clear mountain river, clear lakes, rushing waterfalls – All this has been collected for you in one corner of nature, called the Carpathians. Rest in Carpathians – it is the fresh air in Ukraine. After all, the Carpathians are empty cars, not contaminated plants. Карпаты – most ecologically clean region of Ukraine. Карпаты – a corner of the wild, wilderness. Rest in Carpathians – most accessible financially and most hassle-free in terms of communication with the host – it is always understood, what you need, as opposed to overseas resorts. Besides, Rest in Carpathians not require visas and passports.
Bukovel – one of the most famous tourist resorts of Carpathians, Located near the village of Polanica. Good geographical location – Bukovel is surrounded by an amphitheater krasiveBukovelozdaet comfortable conditions for rest in Bukovel. The unique climatic conditions, extraordinary beauty of the Carpathian Mountains, scenic landscapes, and mineral water are attracted to the rest and treatment in Bukovel large number of tourists. Bukovel (Ukraine) – rest, which ideally combines the superb conditions for sports and fun pastime with peace and quiet. Those, who ever came to rest in the mountains (Bukovel), in this corner of the fabulous snowy winter, who walked the first spring thawed, who breathe in the crystal clear air, return to again and again Bukovel. Holidays Bukovel good at any time of the year, but, first, Bukovel ski resort is considered, so the best time to visit – winter months.
Bukovel: Winter Activities.
The winter season lasts from November to May. Mountain lovers from all over the world come to stay in Bukovel gornolozhny, to skate their skills or just enjoy an active winter holiday in Bukovel. Bukovel – one of the best ski resorts with excellent facilities for a comfortable riding. The ski holiday in Bukovel tourists waiting for a large number of snow routes: for beginners, and for experienced skiers. Those, who crave adrenaline at a ski vacation in Bukovel, expect extreme virgin slopes. For children working skiing schools and instructors. All slopes are covered, that allows you to ride in the evening. Moreover, a ski vacation in Bukovel For tourists comfortable lifts – chair and chair-lift. For children and beginners there tippers. In addition to skiing and snowboarding, your winter holidays in Bukovel can vary sledding and ice skating. But most importantly, that there is always snow Bukovel. Trails are located on the groomers, equipped with snow cannons and snowcat. So, if you want to get into this winter, breathe fresh air and to spend an active holiday in winter – Bukovel – that, that it is necessary! In the resort so much fun, that will not be bored. Winter holiday (Bukovel) – Skiing, boards, sled, skates and a lot of positive emotions!. more >>
Bukovel: Summers, spring and fall
Bukovel – a resort, which is no bad weather, is, even in bad weather it is beautiful. Summer holidays in Bukovel – green meadows and forests, blue lakes and majestic mountains. Bukovel is a popular summer destination for mountaineering, Riding, mountain biking and horseback riding. Bukovel rest in autumn – it's bright colors, aromas of herbs and flowers. Autumn in Bukovel – is picking berries and mushrooms, fishing, riding. Spring vacation (Bukovel) – this fascinating tourist routes and excursions, rafting and more .. more >>
Bukovel: rest, prices, housing
The first, what we should see on vacation, it, of course, housing. In Bukovel, For tourists from a wide range of accommodation. The resort and its surroundings are a large number of private resting places for Bukovel – homes, Manor Hotel, hotels and mini-hotels. Many saunas, Baths, cafe-bars, колыбы, rental of ski equipment. The cost of holidays in Bukovel depends on several factors.
First, proximity to ski lifts: the closer, more expensive. Villa "Milli & Jon" located in 800 meters from the center of Bukovel.
Second, season: Summer prices are low, winter holidays in Bukovel – prices high. Willie Price "Milli & Jon" classified "Value", not as biting as the other.
Third, the level of housing. Villa "Milli & Jon" offers offers 24 numbers, 3 Junior Suite and 2 Suite, each of which is beautifully decorated, in modern style.
But regardless of the level of wealth, everyone at the resort will be able to find a suitable accommodation.
Rest in Bukovel – it's ideal weather conditions year round, variety of national holidays and excursions. Tours, rest (Bukovel) opens holiday travelers for the benefit of the soul and body.